Common name: Triasulfuron
Chemical name:2-(2-chloroethoxy)-n-(((4-methoxy-6-methyl-1,3,5-triazin-2-yl)amino)carbonyl)benzenesulfonamide
CAS: 82097-50-5
Structural formula: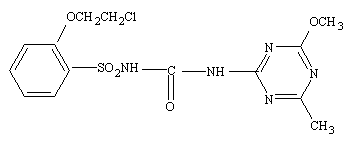 Molecular formula:C14H16CLN5O5S
Molecular weight:401.8
Properties:colorless crystal. Melting point is 186ºC, vapor pressure is 100fpa(20ºC). Solubility (20ºC): water 1.5g/L(PH=7), slightly soluble in acetone, dichloromethane, cyclohexanone, methyl alcohol, n-caprylic alcohol 180mg/L, xylene 166mg/L, slightly soluble in common organic solvents.
Uses: in fields of small grain cereal crops to control annual broad-leaved weeds and some grassy weeds.
Specification:95%TC,75%WDG